Sinopsis
SINOPSIS The King of Blaze Episode 1 – 30 Terakhir (Jing Tian)
Sinopsis Drama China The King of Blaze – The King of Blaze PART 1, yang juga dikenal dengan judul drama "Battle of the Dawn of Fire" merupakan drama China yang wajib Kamu tonton di tahun 2018 ini, menceritakan tentang kisah romantis antara Dewa Api dan Dewa Angin. C-Drama ini akan ditayangkan mulai 26 November 2018 di channel Hunan TV, di waktu yang sama iQiyi dan Mango TV juga akan menayangkan drama ini.
Ini menjadi salah satu drama Mandarin yang wajib ditonton, dan menjadi salah satu drama Cina yang digadang-gadang akan populer dan hits. Mendatangkan artis terkemuka asal China yaitu Jing Tian. Dia salah satu artis Hollywood asal Cina. Sudah banyak membintangi film – film terkenal dengan rating tinggi.
Sinopsis The King of Blaze
Sinopsis The King of Blaze
Diantaranya adalah film The Great Wall (2016) bersama bintang Hollywood Matt Damon. Kemudian film Police Story 2013 bersama aktor Jackie Chan, Special ID (2013) yang juga dibintangi oleh Donnie Yen dan masih banyak lagi. Disini Dia akan beradu akting dengan aktor ganteng Bolin Chen. Ada juga aktris Lai Yu Meng yang menjadi pemeran utama di serial drama terbaru The King's Avatar, tahun 2018.
Menurut kabar berita China, serial drama ini merupakan bagian kesatu atau season 1, dan akan ada musim kedua (season kedua) yang ditayangkan di penghujung tahun 2018. Untuk cerita di season ini akan berpusat di era Dinasti Tang sedangkan season kedua dengan judul sama "The King of Blaze" akan berfokus pada era modern atau masa sekarang. Baiklah, sekarang bisa disimak Sinopsis The King of Blaze selengkapnya.
SINOPSIS The King of Blaze :
Sebuah kisah yang berputar di sekitar dewa api, dewa angin dan asmara yang dihasilkan di antara mereka sambil mempertaruhkan nyawa demi kebaikan tanah air mereka. Ribuan tahun yang lalu, ada sebuah planet yang indah di antara bintang-bintang tempat para dewa tinggal.
Di antara mereka, ada enam dewa kuat yang termasuk Dewa Api, Dewa Angin dan Dewa Gunung yang memelihara perdamaian di kerajaan. Selama pertempuran berbahaya dengan kekuatan gelap, para dewa menderita pukulan hebat. Tidak ada angin yang ditemukan setelah menyelamatkan api.
Untuk menemukan sumber energi alternatif untuk menyelamatkan rumah mereka, Dewa Api bepergian ke era kejayaan Dinasti Tang di mana ia bertemu seseorang yang terlihat persis seperti cinta yang hilang, Dewa Angin dan menerangi yang rumit. romansa antara keduanya.
==============================
Detail Tentang Drama The King of Blaze :
==============================
Judul : The King of Blaze
Judul Lainnya : Battle of the Dawn of Fire
Judul Lokal : 王 之 破晓 之 战 / Huo Wang Zhi Po Xiao Zhi Zhan / 电视剧 火 王 (Dian Shi Ju Huo Wang)
Genre : Romance, Fantasy
Episodes : 30 (tiga puluh)
Sutradara : Hu Yi Chen
Penulis Naskah : Hu Yi Jun, Rao Jun
Stasiun Channel : Hunan TV, iQiyi, Mango TV
Negara : China
Di tayangkan pada : 26 November 2018
==============================
Detail Daftar Pemain The King of Blaze :
==============================
Bolin Chen berperan sbg Zhong Tian [God of Fire]
Jing Tian berperan sbg Qian Mei [God of Wind] / Feng Jian
Zhang Yi Jie berperan sbg Hao Yue [God of Thunder]
Lai Yu Meng berperan sbg Hua Cheng [Goddess of Water]
Du Jun Ze berperan sbg You He [God of Lakes]
Sun Shao Long berperan sbg Di Yun [God of Mountains]
Zhang Wei Na berperan sbg Xing Qiu
Liu Hai Lan berperan sbg Princess Zhao Ping
Wang Vivian berperan sbg Pei Luo Qing
Sui Ke Ming berperan sbg Qi Le
Kris Fan berperan sbg Prince Li Hong
Zhang Jun Han berperan sbg –
Thousands of years ago, there was a beautiful planet amongst the stars where the deities lived. Among them, there were six powerful gods that include the God of Fire, God of Wind and the God of Mountain maintained the peace in the realms. During a dangerous battle with dark forces, the deities suffer a huge blow. Wind is nowhere to be found after rescuing Fire. In order to find an alternate energy source to save their home, Fire travels to the glorious age of Tang Dynasty where he meets a person who looks exactly like his long-lost love, the God of Wind and ignites a complicated romance between the two.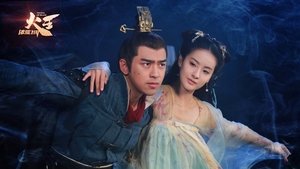 Judul Drama
The King of Blaze
Perdana Tayang
Nov. 26, 2018
Terakhir Tayang
Nov. 27, 2018
Status Tayang
Returning Series