Memories of the Alhambra (2018)
Sinopsis
SINOPSIS Memories of the Alhambra Episode 1 – Terakhir (Hyun Bin) Park Shin Hye
SINOPSIS Drama Korea Memories of the Alhambra. Siapa yang tahu dengan penulis Song Jae Jung? Dia merupakan salah satu penulis skenario terkenal asal Korea, diantaranya adalah serial MBC drama "W" 2016 yang di bintangi Lee Jong-Suk kemudian ada juga "Queen In-Hyun's Man" dari tvN. Nah di tahun 2018 akan membuat drama Korea terbaru "Memories of the Alhambra".
Kali ini penulis skenario Song Jae Jung akan menggandeng PD direktur Ahn Gil Ho sebagai sutradaranya, sebelumna Dia pernah menggarap drama Korea "Secret Forest", "Mrs. Cop" dan "Rooftop Prince". Serial "Memories of the Alhambra" akan disiarkan perdana pada bulan September 2018 di saluran televisi tvN, pada bulan Juni 2018 diputuskan K-drama ini akan di tayang bulan November dan syuting drama ini di mulai sejak Mei 2018.
Sinopsis Memories of the Alhambra
Sinopsis Memories of the Alhambra
Untuk pemain drama Korea "Memories of the Alhambra", dikabarkan aktor ganteng dan terkenal Hyun Bin yang akan menjadi pemeran utama pria, Dia masih mempertimbangkan tawaran itu. Hyun Bin di kenal dengan perannya di drama seri "Secret Garden" SBS 2010 dan 2015 "Hyde Jekyll, Me".
Update artikel 25 September 2018, serial drama ini akan tayang mulai 1 Desember 2018 setiap hari Sabtu dan Minggu di tvN, untuk pemeran utama wanita Park Shin-Hye, Dia akan beradu akting dengan aktor Hyun-Bin. Ini menjadi salah satu drakor yang paling dinantikan di akhir tahun 2018. Oke langsung saja di simak Sinopsis Memories of the Alhambra selengkapnya.
SINOPSIS Memories of the Alhambra :
Yoo Jin-Woo (Hyun-Bin) adalah CEO dari perusahaan investasi. Dia memiliki kepekaan yang baik dalam pekerjaannya, jiwa petualang yang kuat dan keinginan kuat untuk menang. Yoo Jin-Woo mengalami masa sulit secara emosional karena hal-hal seperti pengkhianatan dari teman-temannya.
Ia mengunjungi Granada, Spanyol untuk bisnis dan menginap di asrama tua yang dikelola oleh Jung Hee-Joo. Di sana, Yoo Jin-Woo terlibat dalam urusan aneh.
=============================
Detail Tentang Drama Memories of the Alhambra :
===========================
Judul : Memories of the Alhambra
Judul Lain : Alhambra: Memories of the Kingdom
Judul Lokal : 알함브라 궁전의 추억 / Alhambeula gungjeon-ui chueog
Genre : Fantasy, Mystery
Episodes : 16
Sutradara : Ahn Gil Ho
Penulis Naskah : Song Jae Jung
Stasiun Channel : tvN
Negara : Korea
Di tayangkan pada : 1 Desember 2018 – 20 Januari 2019, setiap hari Sabtu dan Minggu
=============================
Detail Daftar Pemain Memories of the Alhambra :
=============================
Hyun-Bin berperan sbg Yoo Jin-Woo
Park Shin-Hye berperan sbg Jung Hee-Joo
Chanyeol berperan sbg Jung Se-Joo
Han Bo-Reum berperan sbg Go Yoo-Ra
Park Hoon berperan sbg Cha Hyung-Seok
Lee Hak-Joo berperan sbg Kim Sang-Beom
Kim Eui-Sung berperan sbg Cha Byung-Joon
Min Jin-Woong berperan sbg Seo Jung-Hoon
After suffering a setback following his friend's betrayal, Yoo Jin-woo travels to Spain for a business trip. There, he stays at a hostel owned by a former guitarist named Jung Hee-joo; and both get entangled in a mysterious incident.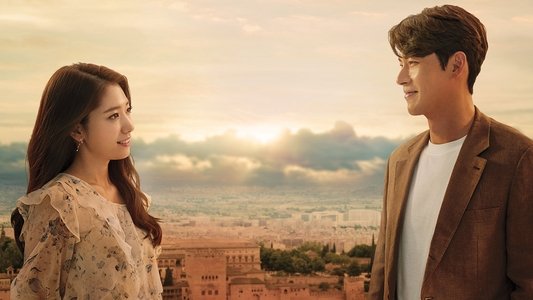 Perdana Tayang
Dec. 01, 2018
Terakhir Tayang
Dec. 11, 2018