Sinopsis
SINOPSIS Love To The End Episode 1 – 104 Terakhir
SINOPSIS/ Cerita Tentang Love To The End. Satu lagi drama Korea terbaru bulan Juli 2018 "Love To The End" akan di tayangkan di channel KBS2 mulai 23 Juli 2018 yang akan tayang setiap hari Senin hingga Jumat pukul 19.50 menggantikan slot drama seri "Mysterious Personal Shopper".
Drama Korea "Love To The End" adalah sebuah drama famili yang menceritakan tentang kisah seorang wanita yang memiliki kepribadian cerah namun keluarganya bangkrut dan ketika remaja sudah bekerja keras untuk hidupnya. Dia dipertemukan dengan seorang kaya dari penerus pabrik kaca dan jatuh cinta kepadanya.
Sinopsis Love To The End
Sinopsis Love To The End
Pemain dari drama seri "Love To The End" adalah aktris Lee Young-Ah yang akan beradu akting dengan aktor Kang Eun-Tak. Untuk pemeran pendukung lainnya ada Hong Soo-A, Shim Ji-Ho dan aktris Jung So-Young yang baru-baru ini menjadi pemeran pendukung dalam serial JTBC "Sketch". Oke langsung di simak saja Sinopsis Love To The End selengkapnya.
SINOPSIS Love To The End :
Ketika dia masih remaja, ayah Han Ka-Young (Lee Young-Ah) bangkrut. Orangtuanya kemudian bercerai. Karena situasinya yang sulit, Han Ka-Young telah mengurus pekerjaan rumah tangga dan keluarganya sejak masa remajanya. Namun demikian, dia memiliki kepribadian yang cerah.
Ayahnya kemudian memulai perusahaan kosmetik. Dia bekerja di perusahaan ayahnya dan menganggap serius pekerjaannya. Sementara itu, Han Ka-Young belum pernah punya pacar. Suatu hari, ia bertemu Yoon Jung-Han (Kang Eun-Tak). Dia adalah penerus pabrik kaca milik keluarga. Han Ka-Youn jatuh cinta padanya.
==========================
Detail Tentang Drama Love To The End :
==========================
Judul : Love To The End
Judul Lokal : Kkeukkkaji Sarang/ 끝까지 사랑
Genre : Drama, Family
Episodes : –
Sutradara : belum ada konfirmasi
Penulis Naskah : belum ada konfirmasi
Stasiun Channel : KBS2
Di tayangkan pada : 23 Juli 2018, setiap hari Senin – Jumat pukul 19.50-20.30
========================
Detail Daftar Pemain Love To The End :
========================
Lee Young-Ah berperan sbg Han Ka-Young
Kang Eun-Tak berperan sbg Yoon Jung-Han
Hong Soo-A berperan sbg Kang Se-Na
Shim Ji-Ho berperan sbg Kang Hyun-Ki
Park Kwang-Hyun berperan sbg Han Doo-Young
Jung So-Young berperan sbg Yoon Jung-Bin
Han Ki-Woong berperan sbg Park Jae-Dong
Lee Min-Ji berperan sbg Jang Hae-Ri
When she was a teenager, Han Ka Young's father's company went bankrupt. As a result, her parents then divorced. Because of her difficult situation, Han Ka Young has taken care of the housework and her family since her teenage years. Nevertheless, she has a bright personality. Her father then starts a cosmetics company. She works at her father's company and takes her job seriously. Meanwhile, Han Ka Young has never had a boyfriend. One day, she meets Yoon Jung Han, the successor to a family owned glass factory. Han Ka Young falls in love with him.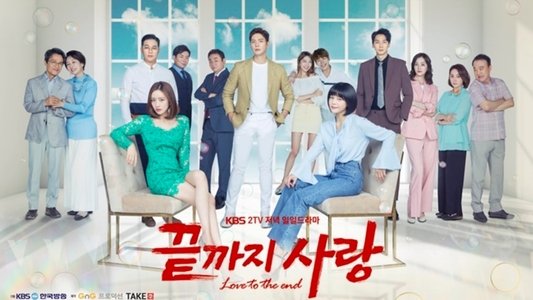 Perdana Tayang
Jul. 23, 2018
Terakhir Tayang
Jul. 23, 2018